WELCOME TO OUR LIBRARY!
Staff:
Teacher Librarian –   Ms Lisa Tierney
Library support staff –  Ms Julie Aulsebrook
                                            Ms Bronwen Jones
                                            Ms Natasha Eid
General:

The mission of Moorebank High School Library is to support the learning needs of the students and teachers and to promote a positive reading culture within the school.
The School Library is available to all students for the purpose of research, reading and study. We house an extensive collection of resources (over 10,000 items) that includes Fiction, Manga, Non-Fiction, eBooks and Senior reference. The majority of these resources are available for student use and/or loan.
In addition, we have 72 networked computers with access to the internet (15 are reserved for Senior students) and Library enquiry terminals to assist with research.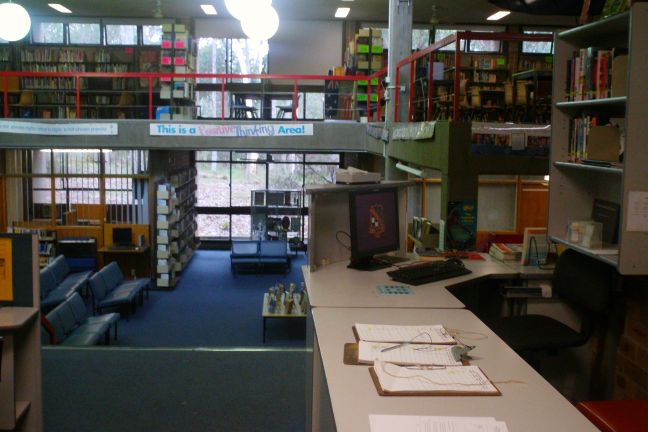 Library Loans:
All students receive a photo ID/Library card. The loan period for most items is two weeks.
Students may reserve a book that is on loan by filling in a reserve slip at the Circulation desk or online.
Overdue items need to be returned before further loans can be made. (Loans can be renewed for another two weeks as long as the item is not reserved by another student.)
*Year 7 & 8 may borrow 2 Fiction and 2 Non-Fiction titles
*Year 9 & 10 may borrow 3 Fiction and 3 Non-Fiction titles
*Year 11 & 12 may borrow 4 Fiction and 4 Non-Fiction titles
(If more items are required this can be negotiated with the Teacher Librarian)
Computer use:
Students may organise bookings for computers at the circulation desk in the Library. Priority is given to students working on assignments and researching or needing to print.
Other facilities:
A photocopier and colour printer are available. Copies are 10c for black/white and 50c for colour.
Display areas are used to promote new books, highlight current issues and present school/community information.